L'HOMME ECARTELE
the quartered man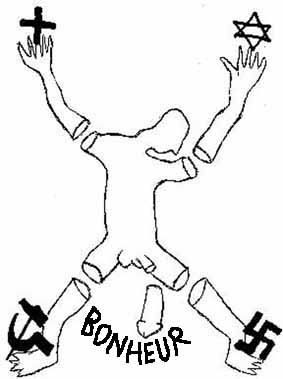 (text in english below)



Costes a ete jugé, pour la seconde fois, le 17 décembre 1998, par la 17ème chambre du tribunal correctionnel de paris, pour injure et diffamation raciale, provocation à la violence et à la violence raciale, provocation à des atteintes à la vie et à l'intégrité de la personne, à cause de textes de ses chansons, extraits du cd "livrez les blanches aux bicots", publiés sur son site internet http://costes.org, sur requête du procureur de la république; l'uejf, la licra, le mrap et la ligue des droits de l'homme s'étant portés parties civiles.

Le 27 janvier 1999, il a gagne son proces car les faits ont ete juges prescrits, les textes poursuivis ayant ete publies plus de trois mois avant le debut de l'action judiciaire.
Mais, le 8 fevrier 1999, le Procureur de la Republique et toutes les associations anti-racistes qui s'etaient portees parties civiles ont decide de faire appel.




Costes sera donc juge une troisieme fois le 17 novembre 1999...

EN FRANCE, L'ART PEUT ETRE UN CRIME !!!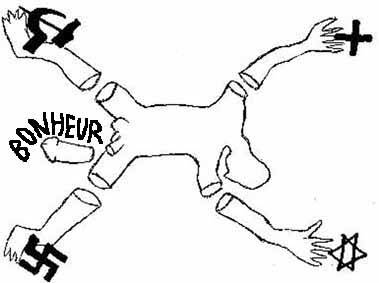 In 1997, Jean Louis Costes has been sued for the first time by the french jewish students organization for supposedly trying to incite racist murder by publishing on his web the lyrics to his CDs 'Livrez Les Blanches Aux Bicots' ('Throw the white women to the Arabs'). Costes won his case.

But, in 1998, he was sued again, for exactly the same motives, by the french state itself and four french antiracist organizations. He was judged on december 17th in front Paris' criminal court, possibly facing heavy penalty, including jail...

On january 27th 1999, Costes won his case because he could give evidence that the songs had been published on his web site more than three months before the beginning of the prosecution (According to the french law, texts must be prosecuted within three months after the day of publication).
But, on february 8th 1999, the french state and the same antiracist organizations decided to appeal.

So Costes will be judged for the third time the 17th of november 1999...

ART CAN BE A CRIME IN FRANCE !!!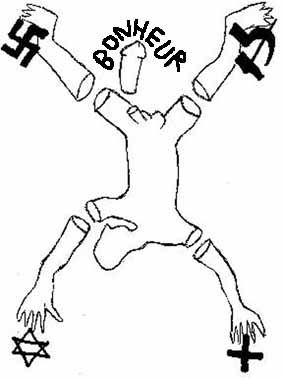 jugé pour l'art
condamné pour l'art
mort pour l'art
BACK TO HOME PAGE
troisieme proces



http://costes.org
jlcostes@yahoo.com
Costes 1998