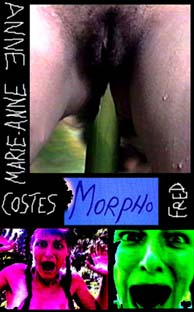 Shooted in Saul (French Guiana) and Saint-Denis (France) in 1998
A movie by Costes (scénario, réalisation, production, montage, musique)
Filmed by Costes & Marie-Anne.
with Marie-Anne, Anne Van Der Linden, Fred Goffin, Costes.
Time : 35 minutes

A female scientist studies the giant blue butterfly "Morpho" in the amazonian forest.
A hunter leads her to a remote place where one is supposed to find the legendary "Black Morpho"...
But the hunter proves to be a psycho...

Une scientifique etudie le "Morpho", un papillon bleu geant, dans la foret amazonienne.
Un chasseur la guide vers un lieu isole ou il pretend qu'on peut trouver le legendaire "Morpho noir"....
Mais le chasseur se revele etre un dangereux maniaque sexuel...