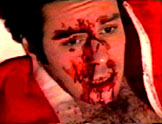 costes videos / movies
SHORT FILMS
Reference : CV24
Four short films (1996-1997)




1 - NOOKY
Shot by Costes in USA - 1997 - 12 min.
with Lisa Carver, Costes and a real baby.
- While Mother and Baby are gone on holidays, Big Overgrown Baby pretends he is Baby eating his poop...
- Alors que Maman et Bebe sont en vacances, Papa joue a etre Bebe qui mange son caca...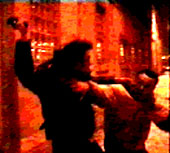 2 - JUSTICE SEXUELLE
Shot by Pierog in Saint-Denis (Fr) - 1997 - 6 min.
with Costes, Mainard, Anne Van Der Linden, Craipeau et Alexandra.
- A drunk reveller with two women meets, in a isolated area, two louts looking for women...
- Un fetard bourre accompagne de deux femmes croise, en un lieu isole, deux voyous en manque de femmes...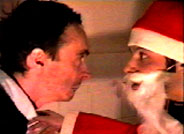 3 - MEME LE PERE NOEL EST ARABE
Filmed by Mr Propre in Saint-Denis (Fr) - 1996 - 12 min.
with Costes and Yann Mainard
- Christmas Eve. A Santa Clause visits a poor lonely man to give him a gift from the city social welfare. But Santa Clause appears to be an arab, and the poor man is racist...
- La nuit de Noel, un Pere Noel visite un homme pauvre et isole pour lui remettre un cadeau de la part du service social de la ville. Mais le Pere Noel est arabe et le RMiste est raciste...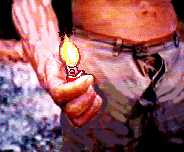 4 - REPENTIR
Costes filmed by Costes in Amazonia - 1997 - 20 min.
- A farmer, sick of digging the hard ground, burns his field and the whole world...
- Un agriculteur, degoute de becher la terre ingrate, brule son champ et la terre entiere...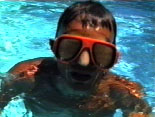 5 - BORN 05.13.54, DEAD ?
Costes filmed by Costes in Guiana - 1997 - 3 min.
- A lap in a swimming pool, a lap in life...
- Un petit tour dans la piscine...un petit tour dans la vie


(Critique de ces films par Dionysos Andronis)

VHS PAL or NTSC - PRICE : 15 Euros, US$ 15, Yens 1500
Costes - 13 quai du square - 93200 - Saint-Denis - France
http://costes.org - jlcostes@yahoo.com - copyright Costes 1988-1997